Mineral Specimens and Crystals
You can see
thousands
of crystals, gems and mineral specimens direct from the mines around the globe, including museum quality display specimens, large decorator pieces and polished quartz crystals of all sizes. When you visit
mineralminers.com
, you're guaranteed to find "Collector Quality Crystals At Miners' Prices!"
TM
Natural Quartz Crystal Clusters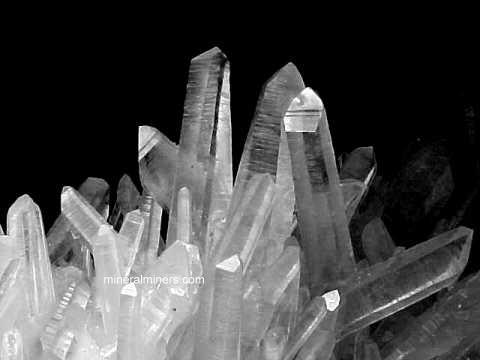 Click on the image at left to enter directly into the mineralminers.com Virtual Gallery of mineral specimens & crystals for all minerals, complete with images, descriptions and secure SSL on-line ordering. These pages will take a little longer to finish loading as they contain all of their on-line selection of mineral specimens & crystals for all minerals! These are sold and replaced on a daily basis, so do come back often!



To see mineral specimens and crystals for a particular mineral variety, visit the Mineral Inventory & Factsheet Index. This index is an alphabetical list containing every mineral variety in their on-line inventory, with links to images of mineral specimens, crystals, gems, jewelry, spheres and crystal balls, lapidary and facet rough, and natural gift items for each mineral listed in this index - all with secure SSL on-line ordering. There also are links to information pages on the different minerals giving their physical properties and discussing their occurance, diagnostic features, uses, history and metaphysical properties.
Natural crystals and mineral specimens are available for each of the following mineral varieties:
Crystals are also available in many different natural materials such as clear quartz crystals, amethyst crystals, ametrine, citrine crystals, phantom quartz crystals, rose quartz, ruby crystals, large quartz crystals and rutilated quartz crystals as well as smoky quartz jewelry, carnelian jewelry, and black tourmaline in quartz jewelry designs just to name a few!

Many other gem & mineral items are also on display such as mineral spheres & eggs, gemstones, 14k gemstone earrings and cocktail rings, facet rough, lapidary rough, crystals, jewelry, handcrafted gifts and their spectacular decorator minerals, as well as metaphysical and new age information.
---
Last Updated: September March 2, 2012
© Copyright 2000-2012
crystalminers.com®
All Rights Reserved.